07-05-2020, 06:34 PM (This post was last modified: 07-09-2020, 02:22 PM by DoctorFinkle.)
While playing on the SOLO Agf.io server in the past year, I have been carefully observing its mechanics. While there are some things that I like, I think that there are many things that should be changed. Please note that this is NOT a request for the original server, as I think that everyone can agree that both servers have their problems. I know that this is a long read, but I strongly urge you to find the time to read all of it, as this is probably my most important thread.
This is a typical scenario that occurs in the server daily:
There is a huge solo battle consisting of 3-5 players. No one is being greedy, no one is teaming, we are all just being playful and having a good time. Within a few minutes, a large portion of our mass mysteriously vanishes, due to the "anti-teaming" algorithm, which is highly inaccurate. Players that are aware of this algorithm usually try to sneak in a lot of viruses to create mass during battles to balance it, but this is usually not enough. Meanwhile, 2 players are farming mass from the portals, each in different rooms. The player in Room 2 enters the portal, teleports to the top of the screen, makes a few greedy splits, and just like that, all of our mass is gone. A couple players that managed to survive start popping the greedy player, trying to get the mass back. One of the players eats a huge chunk of the greedy player, and the greedy player realizes he is in danger and messages his party. A few seconds later, the player in Room 1 comes out and feeds all of his mass to him. To make sure that no one else tries to eat him, the greedy player starts virus-farming, or feeding viruses to the center of his pieces, effectively creating a force field around him, just being a dead spot in the center of the map. The player just keeps growing indefinitely, ruining nearby battles with his outer pieces. The greedy player is now in first place with over 30k mass, and second place has no more than a few thousand mass. He eventually returns to the portal room, bringing all of the mass with him. This player has essentially wiped all of the mass from the map.
Parties
On the SOLO Battle Royale servers, parties are disabled entirely. I do not think that parties on Agf should be disabled, as they are convenient for private conversations. However, party members should not show on the minimap.
Anti-Teaming
While the anti-teaming algorithm is meant to prevent teaming, it actually hurts solo players WAY more than it hurts teamers. The current anti-teaming algorithm is highly inaccurate, so it is easily triggered even during fair solo battles, resulting in a drastic amount of mass loss. The server has loopholes that make it extremely easy to cheat mass such as by virus-farming and by portal-feeding, so even if a team loses a lot of mass due to the teaming penalty, they can easily get it back within seconds. There is a strong correlation between teaming and cheap gameplay (who knew?), so while most solo players try to avoid virus-farming, teams are doing it constantly. If a team has 3 or more players, there is usually at least one player who is virus-farming while the rest are teaming, so once the teaming penalty is triggered, the virus-farmer can redistribute the mass with ease.
Virus-Farming
While virus-farming is not a problem on its own, it is a mechanic that is easily abused and often is. All you need is a few thousand mass, a virus, and a functional W key, and you can farm your way to 20k mass within seconds. In FastSplit VirusFarm and Splitrun Paradise, virus-farming might not seem like a problem, but in Agf, it is notoriously one of the most overpowered mechanics in the server. While some players see virus-farming as a necessary evil to counter the "anti-teaming" penalty, some players will farm nonstop. I have made a couple posts in the past on this topic, and both were missing a key aspect that I was not aware of until recently. Something that distinguishes Agf from all of the other servers is the way the cells clank around when a player splits. In every other server, the pieces temporarily pass through each other when a player splits, as illustrated below: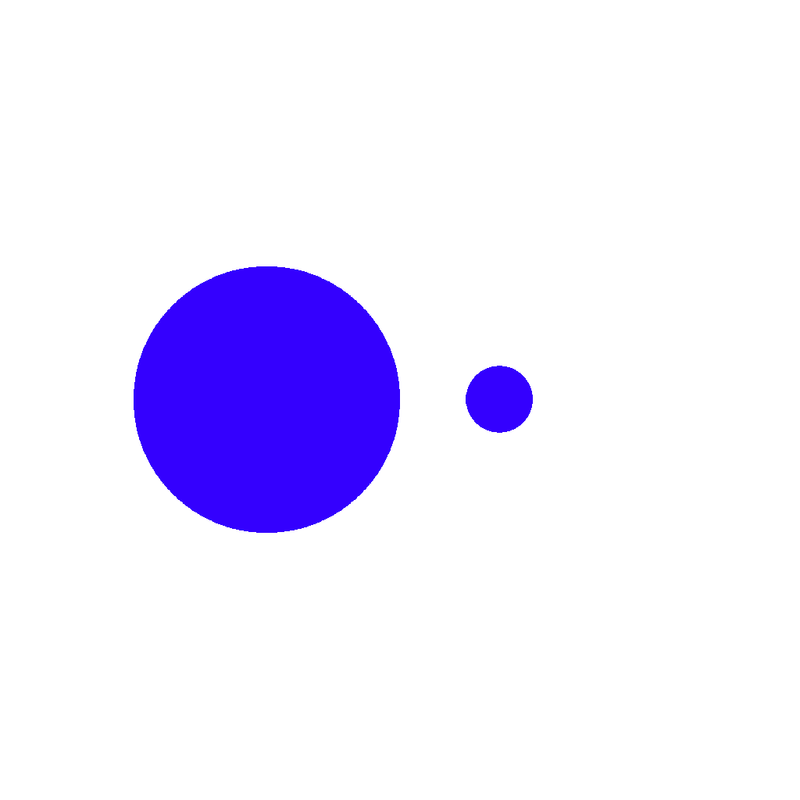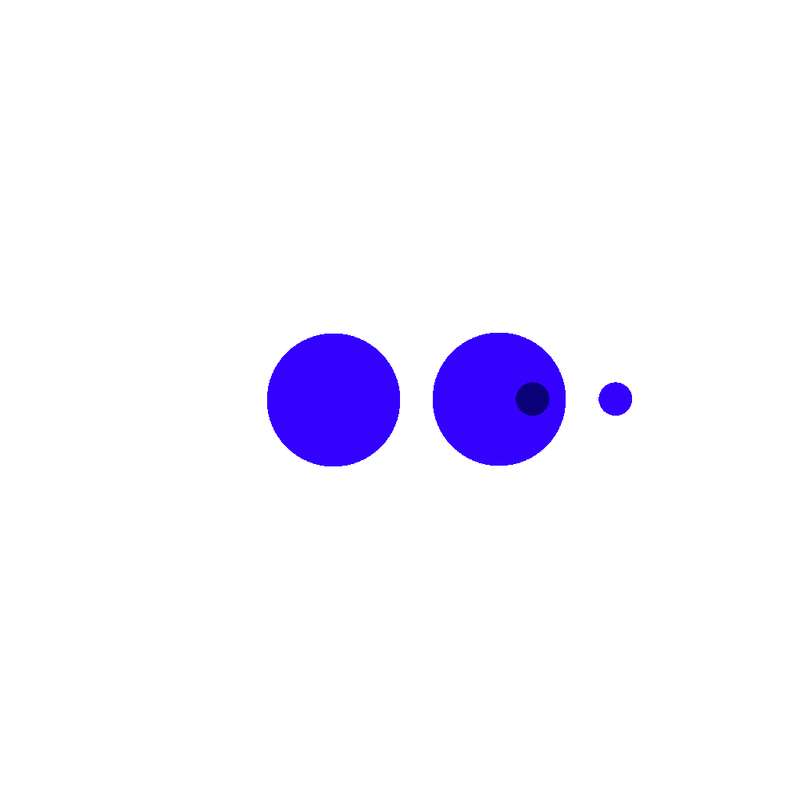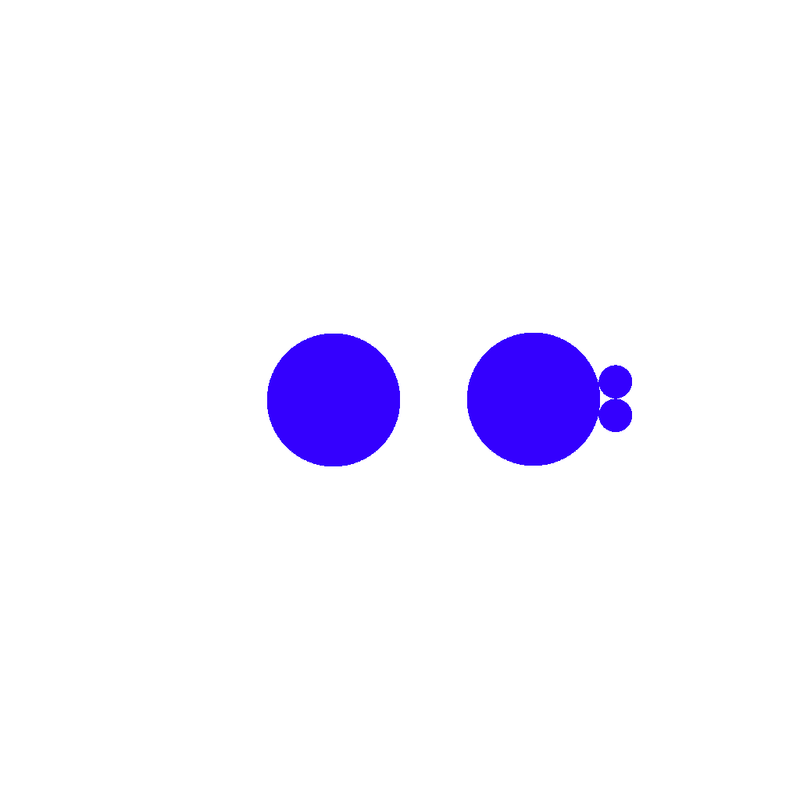 However, in Agf, there is a sort of "clank" effect, as illustrated below: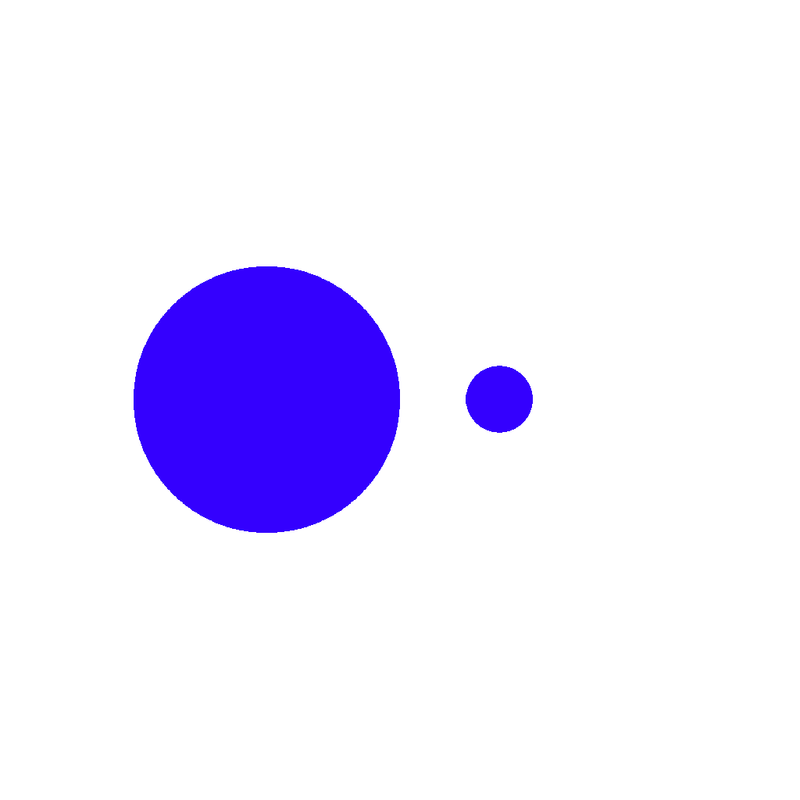 While I was always aware of this "clank" effect, I did not realize just how great of a  role it plays in virus-farming. This is because when a player tries to terminate the farmer, the farmer's large pieces randomly escape from the center and instantly kill the player trying to eat him. This makes it extremely difficult to kill them unless you are the same size as them. Even then, it is a gamble. I do not think that this "clank" effect should be eliminated completely, as it is what generally creates the "Agf feel," but I think it should be weakened. I could very well be wrong, so please correct me if I am, but from what I have heard from other players, this "clank" effect has always existed, but it was just not as dramatic on the original server. What I know for a fact is that virus-farming was not nearly as dramatic as it is now. Virus-farming used to be more effective on FastSplit VirusFarm, but now it is far more effective on Agf. The thread that one of my posts on virus-farming was on was deleted, but here is the link to a thread that I made, just for a different perspective: 
http://agarioforums.net/showthread.php?tid=66521
Portals
It is unbelievable how many players come to Agf from other servers, farm 30k mass from the portals, teleport to the top of the screen, team on the entire server, and then claim that they are "just here for powers." The entitlement of these players is astounding. They come to the server every day demanding for powers but do not respect the solo rule. When they get targeted by the server, they get really toxic in the chat. The map is also way too small for portals. On other servers, it is pretty difficult to get from the top of the map back to the portal room unless the player uses powerups. On Agf, this can be achieved in less than a minute, especially with the help of virus-farming. I think portals should probably be removed from the server, but I think that powerups should definitely be removed from the server entirely. A large percentage of teamers play on Agf for powerups, so this would instantly eliminate a lot of teaming there.
Coins
Most teamers that do not come to Agf for the powers come for the coins. The coins on Agf have the highest value, highest production rate, and least competition. These conditions are perfect for efficient coin-farming. While on other servers, players have to compete for a space to farm from a gold block, and the player with more powerups usually wins, Agf has enough coins to go around and creates a level playing field for all players. Unfortunately, a lot of coins-farmers are also teamers. I know this because I have gone undercover to get into parties, and a lot of teamers seem to be there for coins. I do not think that coins should be removed, as even players who strictly play Agf collect coins for skins, wearables, etc. One solution would be to decrease the value and production rate of coins on Agf and/or increase the values and production rates of coins on the other servers. Another solution that is not exclusive to the first one would be to add more bots to the server that collect coins to create more competition. After all, coins are better off wasted by the bots than collected by players who obtain them illegitimately.
Bots
Adding more bots would also compensate for the players that leave, so there would still be mass to go around. The current bot just wanders around the map and interferes with battles by randomly running into players and randomly stopping and blocking viruses. An improved version of the bot could macrosplit around the map to get mass faster, shoot more viruses while under attack, and keep their distance from existing human battles. Each bot could even have slightly different playstyles to make it more fun. These bots would be temporary while the server is still small. Many old Agf players have started returning recently, and the server is noticeably different for them from when they played on the old server, and most of them like the old physics more, and they especially do not like battles ending in ridiculous amounts of mass loss. If the server is fixed during this trend, these returning players will likely start playing regularly again.
Maximum Virus Count
Agf has a relatively low maximum virus count. This means that if too many viruses are on the map at one time, then no more viruses can spawn or even be shot. If a player has freeze, they can max out the viruses in mere seconds. This slows down the flow of the game because all of the server's viruses are stashed in one main cluster, so no more viruses are spawning and all mass ejections go through existing viruses without shooting new ones. I have never experienced this on other servers, only on Agf. I assume that a maximum virus count is implemented so that the server does not crash from too many viruses, but since the abuse of virus-farming seems to cause much of the server's lag, if the mechanics that allow abuse of virus-farming are eliminated, this maximum could probably be increased.
"Clank" Effect
The "clank" effect that I mentioned before affects gameplay in more ways than just virus-farming. If a large piece is surrounded by several tiny ones, it can be very difficult to make an accurate split, as the direction of the split can be unpredictable. I once had a piece that had over 10k mass and a tiny piece that I could not see that had less than 5 mass, and it literally made me split perpendicular to my intended direction. Reducing this "clank" effect would also make it easier to beat teams. On most other servers, it is easier to prepare for when someone's teammate is about to split and intercept it in time. On Agf, however, the splits almost seem to teleport, making these interceptions much more difficult. If the original physics of Agf are restored, it would greatly improve the flow of the game.
Conclusion
Nearly every player on Agf is either a teamer from another server who is there to collect powers and/or coins or a serious solo player who is there for the actual game. Agf is currently a server with two very different types of players with conflicting interests, so the best thing to do is make Agf a truly solo server. Removing power-farming and coin-farming from Agf will not make anyone quit Agma, but removing the server that so many players knew and loved will and has. If we can fix Agf and restore a solid community of skilled solo players, it would actually cause a net increase in Agma players. There are many servers for powers and coins, but there is only one Agf.
@
Sora
Thanks for reading! If you are a passionate Agf player like I am, please comment! Your voice needs to be heard! Say anything that you agree and/or disagree with. I want to start a productive discussion!
Press Ctrl+A to see the magic:
╲┏━┳━━━━━━━━┓╲╲
╲┃◯┃╭┻┻╮╭┻┻╮┃╲╲
╲┃╮┃┃╭╮┃┃╭╮┃┃╲╲
╲┃╯┃┗┻┻┛┗┻┻┻┻╮╲
╲┃◯┃╭╮╰╯┏━━━┳╯╲
╲┃╭┃╰┏┳┳┳┳┓◯┃╲╲
╲┃╰┃◯╰┗┛┗┛╯╭┃╲╲